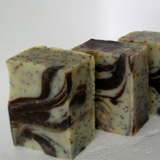 Cinnamon Scrub Bar
This soap is super-exfoliating, with poppy and caraway seeds. Due to the super-scrubby nature of the seeds, we recommend this bar is used for dirty hands and dry or rough skin, such as the heels of your feet.
The cinnamon essential oil is a warm, spicy scent, which is both uplifting and invigorating. Cinnamon essential oil is also thought to help fight mental fatigue and boost your concentration.
Ingredients: Sustainable palm oil, water, olive oil, coconut oil, sodium hydroxide, sunflower oil, sweet almond oil, rice bran oil, cinnamon essential oil, poppy seeds, caraway seeds, cocoa powder.
Each bar weighs at least 120 grams and is hand cut.
$5.50 inc GST.