Where to find Bare Naked Body and get hands-on with our products...
Come and get up-close and personal with Bare Naked Body products at the Perth Upmarket this November for the fabulous Christmas Upmarket!
Where - The University of Western Australia
When - Sunday 25 March 2018 from 10am to 4pm
You will find the Bare Naked Body stall inside the undercroft, opposite the pond.
See you there!
We also attend Busselton markets at Signal Park and sometimes Dunsborough market - we will always update Facebook if we are attending a local market, so please like us on Facebook for updates.
Past Events
Bare Naked Body was at the Christmas Upmarket at the University of Western Australia in 2011, 2012 and 2013 and 2014. Here are some photos in case you missed the event.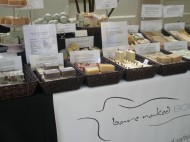 We had a great time showing our soaps off and everyone enjoyed getting hands on and up close and personal with Bare Naked Body soaps. A good time was had by all and we had a very successful market.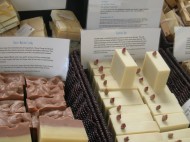 The turnout was fantastic and everyone was in the Christmas spirit! Soap for stocking fillers, Christmas presents for family and school teachers and my limited edition Soap on a Rope made of Green French Clay was going to be used as Christmas Tree baubles before being given out as gifts on Christmas Day!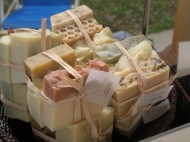 Perth Upmarket really helps handmade and handcrafted artisan products get out there to the public.